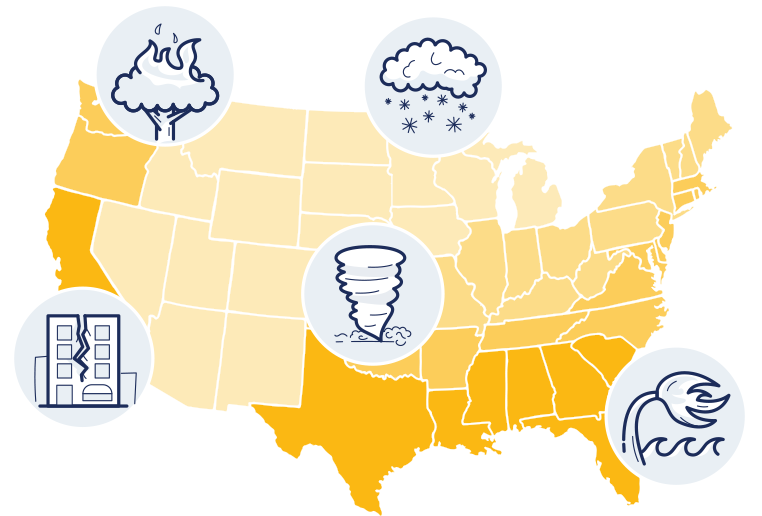 We remember Hurricane Sandy like it was yesterday.
After all, who could forget that week in late October 2012 when devastation struck the Atlantic seaboard, from the Caribbean to Canada. Reports of 100-mph winds, 14-foot storm surges and nearly 8 million businesses and households without power dominated the news. But what stuck with us the most was that the superstorm was responsible for $70 billion in damages and left tens of thousands of individuals and families homeless … and ultimately bankrupt.
That's when we stopped seeing statistics but rather human beings, each with a devastating personal story of loss and uncertainty.
Our thoughts immediately spiraled to other hurricanes and natural disasters – earthquakes, tornados, winter storms – and the innumerable lives facing lost homes, financial futures in jeopardy and livelihoods left in the rubble.
So we asked ourselves a crucial question: How could we help?
That's why we created Recoop.
Yeah, we're an insurance company. But in an industry full of bean-counters and legal-types, we think of Recoop as your neighborhood do-gooder. Because we actually pay claims, cover the things most Americans don't realize aren't covered by their homeowners insurance and make sure that when Mother Nature releases her fury, you don't go down in the process.
Yes, Recoop covers gaps in home insurance policies. And when we do that, we do something much more meaningful – we uncover financial blindspots and protect people's biggest asset.
So by offering affordable policies and rapid cash benefits when you need them most (without any loopholes or gotchas), we become more than just another insurance company.
We become your safety net, picking up where insurance stops.